Båstad Chamber Music Festival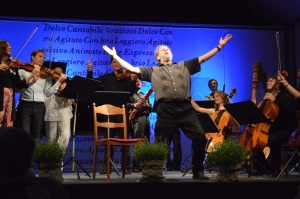 Dear Audience,
We will celebrate our 25th anniversary and it will also be my last year, after 12 year as artistic director. As usual our Festival is full of unusual colourful concerts with chamber music from baroque- until contemporary music. A musical feast! The theme this year will be "Ursprung" (Roots/Origin)- Folk music in the art music focused on reflections, but also to new times and new thinking, something that has always been an important component in the festival. We often find strong influences from the traditional folk music in the European art music.  Many composers relate to their own or other country's folk music traditions and are therefore contributing to create something new from the old.  The theme also includes the message "music – the global language", expressing the understanding and interest in other cultures and therefore the respect for all mankind, an important message for a 25 year jubilee!
Welcome to unforgettable musical moments in Båstad on the beutiful penninsula Bjäre!
Karin Dornbusch, clarinetist, artistic director, member of the Royal Music Academy
Photo on the right side: Karin Dornbusch, artistic director (photo: Johan Sundell)
Helena Tulve, composer in residence 2017
---
ARTISTS 2017:
Sofia Nyblom, compere
Camilla Lundberg, compere at the sponsors concert 
Carlhåkan Larsén, lecture/writer programmebook
Helena Tulve, composer in residence (EST) www.helenatulve.ee
Vox Clamantis (vokalensemble, EST); Jaan-Eik Tulve, conductor (EST)
Karin Rehnqvist, composer/lecture
Malin Bång, composer
Marie Samuelsson, composer
Anne Sofie von Otter, mezzo soprano
Dan Laurin, recorder
Anna Paradiso, harpsichord  (ITA)
Sirkka Liisa Kaakinen, baroque violin (FIN)
Musica Vitae, string orchestra
Gringolts Quartet : Ilya Gringolts (RUS  och Anahit Kurtikyan violin (ARM);  Silvia Simionescu, viola (RUM); Claudius Herrmann, cello GER)
Chloë Hanslip, violin (UK)
Marika Fältskog, violin, masterclass teacher (FIN)
Jiří Bárta, cello (CZE)
Karolina Öhman, cello
Cristina Ortiz, piano (BRA)
Bengt Forsberg, piano
Julien Quentin, piano (FRA)
Hans Pålsson, piano, masterclass teacher
Taavi Kerikmäe, piano (EST)
Roland Pöntinen, piano
Mario Caroli, flute  (ITA)
Aisling Casey, oboe (IRL)
Karin Dornbusch, clarinet
Rie Koyama, bassoon (JPN/GER )
Royal Danish Brass (DK):
Jonas Wiik, trumpet (SE)
Nikolaj Viltoft , trumpet (DK)
Dominika Piwkowska, horn/bronzelure (DK)
Keld Jørgensen, trombone/bronzelure (DK)
Christian Bay, tuba (DK)
Magdalena Meitzner, percussion (GER)
Anna-Liisa Eller, kannel (estonian zither) (EST)
Ulrika Bodén, folkmusic singer /kulning/ lecture
Sofia Sandén, folkmusic singer/ kulning
Jeanette Eriksson, violin also folk music
Olle Steimer, presentation (children's concert)
Rolf Martinsson, masterclass for composers
Fredrika Bremer Sholarship:
Linnea Meilink, violin with the Meilinkquartet: Gustav Inge, violin 2; Vidar Andersson Meilink, viola; Linnea Vikström, cello
Hristina Veljanoska, piano (MAK)
Pille Rite Rei,  composer (jazz)/ saxophone (EST) and Marie Buch Hoyer, piano (DK)
 _________________________________________
INFORMATION
The Båstad Chamber Music Festival is set in the Arcadian landscape of "greater Båstad" - the Bjäre Peninsula.
Tel +46 431 36 96 60
e-mail: info@bastadkammarmusik.com
For tickets go to:
http://www.bastadkammarmusik.com
Accommodation can be found of various kinds and levels, including hotels, youth hostels, cottages, B & B, etc.
For more information on lodging please contact the Båstad Tourist Office, tel +46-(0)431-750 45, fax +46-(0)431-700 55.
You reach Båstad by car along the E6 motorway. Or you take a train - there are frequent direct transportation from Copenhagen Airport, or, of course, from Malmö or Göteborg.
Flights to Ängelholm Airport (less than 20 kms away) are operated from Stockholm with great frequency. The flight takes one hour.