Dalhalla Opera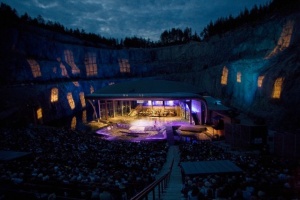 Dalhalla Opera are looking to the future. No performance 2018.
With Marcus Jupither as a new artistic director, Dalhalla Opera will resume its opera and concert activities. The goal is an audience-friendly opera with at least one major international name, reveals Jupither.
However, operations will not resume until 2019, provided that there is an economy and that cooperation is established. "With so many good forces in the region, we definitely believe we can get what Dalhalla was created for: opera," says Marcus Jupither, artistic director, who has a renowned board behind him and adds: "Those I've been in contact have all been positive to Dalhalla Opera's new leadership. The new board includes a number of prestigious names with extensive experience in opera activities, including the opera singer Kerstin Avemo, stage director Mira Bartov and Kurt Blomquist from Leksand, now reunited after 40 years at the Royal Opera - the last ten years as technical manager.
It was from a broken limestone breach that the dream of Dalhalla was born. The dream became reality thanks to the music radio producer and former opera singer Margareta Dellefors who, after retiring in 1991, devoted her life to Dalhalla opera.
As stage director, Jupither can speak of a Swedish audience record for a Wagner performance with more than 5000 in the audience when two performances of Die Rheingold was given in Dalhalla 2013
Dalhalla is situated 7 km from Rättvik, in the direction of Mora. There are good parking facilities.
The train journey from Stockholm to Rättvik takes app 3 1/2 hours.
Flights are also available to Borlänge and Mora.
In concert evenings there are buses to and from Dalhalla from Falun, Borlänge, Leksand, Tällberg and Rättvik.
All Dalhalla's facilities are adapted for disabled visitors.
Arenabus from the parking area to the concert arena.
More info: www.dalhallaopera.se
Tickets and lodging:
Siljan Tourism, Phone: +46-(0)248-79 72 00
Dalhalla
Box 1, SE-795 21 Rättvik,
Phone: +46-(0)248-79 79 50, fax +46-(0)248-79 79 60