Chamber Music Festival in Allhelgonakyrkan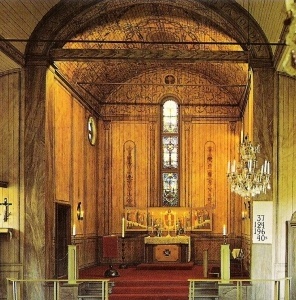 Festival 2020 -  Beethoven-Variations
Allhelgonakyrkan, situated on the island "Söder", is one of the finest spaces for chamber music in Stockholm. The size is perfect, seating 250; the acoustics are marvelous, it makes no difference where one sits and the space can be filled equally well by a solo instrument or voice as by a chamber orchestra.
Nearly every summer since 1999 KVAH (which is the Swedish acronym for Friends of Chamber Music at Allhelgonakyrkan) has organized a chamber music festival. Come and enjoy wonderful chamber music in a beautiful space in a lovely city.
    August 5–8   Beethoven-variations
Information about this year's festival will be available soon. Information about last year's festival is still available
Women composers
2019's chamber music festival in Allhelgonakyrkan theme was women composers - from Clara Schumann and Amanda Maier to contempoary Swedish composers. Many of Sweden's foremost musicians performed about twenty compositions in five concerts during the four days. Most of the concerts mixed pieces for solo piano with, among others, solo harp, string quarters and songs, old and new.
   Artists
Henriikka Gröndahl, soprano, Cecilia Zilliacus & Julia-Maria Kretz, violin, 
Ylvali Zilliacus, viola, Kati Raitinen, cello, 
Karin Dornbusch, clarinet, Lisa Viguier Vallgårda, harp, The Treitler Quartet,
Matti Hirvonen, Erik Risberg and Bengt Forsberg, piano
     Program for each day
The concerts each day at 6 PM will begin with two short piano pieces by a Swedish and a foreign composer, among others Andrea Tarrodi, Alice Tegnér, Amy Beach and Fanny Mendelssohn.
 
     Thursday August 15  18:00
Amanda Maier: Piano trio in E-flat
YoungWoo Yoo: "Dreamscape" for piano quartet 
Fanny Mendelssohn: String quartet in E-flat
 
     Friday August 16  18:00
Iris Szeghy: Vivat summer! for solo clarinet and Preludio e danza for bass clarinet
Maria Bach: Cello sonata
Cécile Chaminade: 6 Pièces Romantiques op 55 for piano 4 hands
    La chaise á porteurs, Sérénade d'automne and Danse hindoue
Valborg Aulin: String quartet nr 2 in e-minor
    Saturday August 17  18:00
Ester Mägi: Sonare for clarinet and piano
Clara Schumann: Songs:
    Sie liebten sich beide, Er ist gekommen and Liebst du um Schönheit
Alma Mahler: Songs:
    Ansturm, Die stille Stadt and Bei dir ist es traut
Iris ter Schiphorst: Hi Bill! for bass clarinet
Marcelle de Manziarly: Piano trio
     Sonday August 18  15:00
Margareta Hallin: Songs: På en judisk kyrkogård i Prag -
                                 Är jag intill döden trött
Grazyna Bacewicz: Piano sonata nr 2
Louise Farrenc: Clarinet trio in E-flat
     Sonday August 18  18:00
Elfrida Andrée: Romances for violin and piano
Sophia Dussek: Harp sonata in c-minor, op. 2:3
Germaine Tailleferre: Sonata for harp 
Grazyna Bacewicz: Piano quintet nr 1
Don't forget that we have monthly chamber music concerts; you are welcome then too. There's more information on our website, www.kammarmusikens-vanner.se/en/
Tickets are sold at the church one hour before each concert begins. A festival pass for all of the concerts will be sold on the first day, August 5.
                                  All five concerts    Conserts at 18:00    Sunday concert at 15:00
Regular price:                  650 SEK               200 SEK                    120 SEK
Members:                        500 SEK               150 SEK                     100 SEK
Those under 26 have free entry