Saxå Chamber Music Festival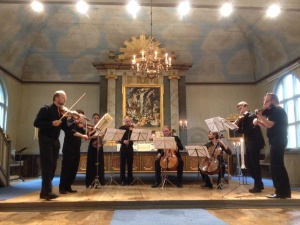 Saxå Herrgård in Värmland's mining district is the centre of the festival (26-30 June 2022) and next summer will be the 35:e edition.
Saxå Chamber Music Festival aims to illustrate history and tradition along with innovative creativity by linking the rich tradition of the area with premieres of contemporary music. It offers a variety of cultural activities in different venues. It is a project of high artistic level with a steady ensemble of musicians from the Royal Stockholm Philharmonic Orchestra. After 34 years we still aim to provide eastern Värmland with an injection of music and culture filled with enthusiasm and warmth.
Information Saxå Kammarmusikfestival, Peter Eriksson, Artistic Director,
Dalagatan 34, SE-113 24 Stockholm +46-(0)705 93 28 93.
peter.eriksson@saxa.se
Festival information and ticket reservations:
+46-(0)72-211 07 76, info@saxa.se
Accommodation: Grythyttans Gästgivaregård, SE-712 81 Grythyttan +46-(0)591-147 00, fax 0046-(0)591-141 24. Saxå Herrgård, SE-682 92 Filipstad.
Saxå Chamber Music Festival and Friends' Association web: www.saxa.se