Umeå Jazz Festival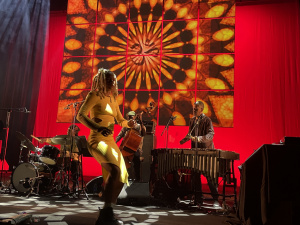 UMEÅ JAZZ FESTIVAL CELEBRATES IT´s 55:th EDITION!
We are delighted to share the line-up of Umeå Jazz Festival 2022. This year we celebrate the 55th edition! Over the years, this cultural and innovative center in the north of Sweden has produced a remarkable high yield of jazz musicians in our country. It also holds one of the most excellent Swedish Jazz Clubs – our co-partner Umeå JazzStudio. You ́re welcome to share some magical moments as you indulge in great jazz- and improvised music.
We also are happy to introduce our new artistic director, saxophonist, educator and composer Jonas Knutsson. The current one since 32 years, Lennart Strömbäck, will this year step back and say goodbye.
Guest(s) of Honor 2022: pianist and composer Lisa Ullén and doubel bass player Nina de Heney-Lisa Ullén.
Among this years artist we prodly presents; Roberto Ottaviano Eternal Love Quintet [IT] Avishai Cohen Quartet [IL]  Rebecka Törnqvist Dirty Loops, Susana Santos Silva & Kaja Draksler [PL/SI] Hermeto Pascoal [BR] Cool Funeral Beer [SE/FR/US]. 
Warm welcome!