Vinterfest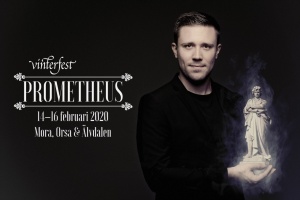 VINTERFEST 2020 - The myth of Prometheus
The International Chamber Music Festival Vinterfest is a rich and inspiring musical celebration in the stunning heart of the Swedish countryside. Artistic Director Roberto GonzálezMonjas gathers an impressive array of international talent to create a sophisticated and innovative programme performed in warm and atmospheric venues with a glistening wintry outside setting. Praised by both audience and press, Vinterfest is, according to German National Radio, "a wintry, idyllic chamber music paradise".
The myth of Prometheus is a universe in itself. Its world-famous story, profusely told by Greek and Roman mythology, went on to be a part of popular culture and to represent some of mankind's biggest achievements, concerns and fears. Prometheus has been presented to us as the creator of man (out of clay), the trickster who stole fire from the gods, the extraordinarily intelligent being whose ambition for progress and science went too far, the Titan condemned to eternal punishment. 
This year's Vinterfest is a true journey: each concert will examine and illustrate the story of Prometheus from a different perspective – his values, his pain, his relationship to other mythological beings, the ideas he strived for.