Inbjudan till Arts Festival Summit, Ljubljana.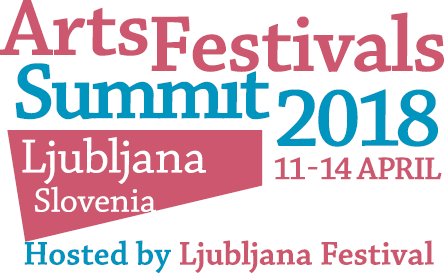 EFA's Arts Festivals Summit 2018, including the 66th EFA General Assembly, EFFE MeetUp and the opening of the Slovenian Music Days, will take place from 11 to 14 April in Ljubljana (Slovenia), hosted by the Ljubljana Festival. The theme of this year's Summit is The [Herit]AGE of the ARTS - Audiences in the heart of the places. Extended registration deadline: Friday 9 March 2018!
15:00 - 17:00 | Festivals and Tourism: how destinations become alive 
(Grand Hotel Union, Silver Room)
Welcome by Petra Stusek, Director of the Ljubljana Tourism board and Vice-president of the European Cities Marketing Association
Best practice presentations of the impact of festivals on tourism by Leeuwarden – European Capital of Culture 2018, others to be confirmed
PROGRAMME 11 AND 12 APRIL
16:00-19:00 | Registration (Grand Hotel Union, Foyer Grand Union Hall)
Official Opening of the Arts Festivals Summit (Grand Union Hall)
19:00 | Meet and Greet EFA members and guests. Welcome Banquet
12 APRIL
9:00 | Registration and welcome coffee (Foyer)
10:00-10:15 | Welcome and Introduction 
Mateja Demšič, City of Ljubljana, Head of Department for Culture | Introduction to the Ljubljana Cultural Strategy
Catherine Magnant,  Advisor, Head of the Task-Force of the 2018 European Year of Cultural Heritage, European Commission | Introduction to the European Year of Cultural Heritage 2018 
10:15-13:00 | In Conversation about…
4x20 min. 'In conversation about….' is a series of parallel one-on-one (max 10 participants) conversations inspired by a series of presentations on topics related to the work on audiences in cultural heritage sites on the one hand, and our responsibility to contribute to the heritage of the future on the other. 
In conversation about the role of cities in investing and supporting culture.
Philippe Kern (Founder and Managing Director of KEA)
Annelies Storms (Alderman of Culture, Tourism and Events City of Ghent)
In conversation about the impact of an artistic project in bringing together the citizens and impacting audiences in valuing our common European heritage
Ceyda Berk-Söderblom (Co-founder and Director at MiklagardArts, Atelier Alumni & lead of the Studio Aleppo [Helsinki] )
In conversation about the role of cities in investing and supporting culture and the role of artistic projects in partnering with the cities to make a common vision for the development of citizen's access to high quality artistic projects.
Sjoerd Feitsma (Deputy Mayor of the City of Leeuwarden) 
Carlos Pinto Sá (Mayor of the City of Évora & Member of the Committee of the Regions)
In Conversation about the ways of engaging audiences in an artistic experience.
Airan Berg (Artistic Director of the Festival der Regionen & Artistic Director of the Orfeo & Majnun - Interdisciplinary & intercultural participatory Music Theater Project) 
Dieter Boyer (Senior Advisor to the City Councillor and State Minister for Arts, Science and Sports of Vienna) 
13:00-14:30 | Lunch (Foyer)
14:30-15:00 | "EFA Informs..." 
Introduced by Barbara Gessler, Head of Unit DG EAC D2 Culture & Creativity | Creative Europe
EFA and its members
The Festival Academy
Europe for Festivals, Festivals for Europe 
15:00-15:45 | The [Herit]AGE of the ARTS – Keynote Speech 
Keynote Speech by Peter Bossman (Committee of the Regions & Mayor of Piran) in representation of  Karl-Heinz Lambertz (President of the European Committee of the Regions) 
Concluded with a joint festive statement: the Ljubljana Declaration of EFA and Eurocities: Festivals and Cities for Europe. A joint Agenda introduced by Doris Pack (former chair of the European Parliament's Culture Committee)
15:45 | Group photo
16:00 | Closing drink and informal networking (Hall, Foyer)
EVENING PROGRAMME (30€ fee)
19:30 | Ballet 100 (SNG Opera in balet Ljubljana)
22:00 | Dinner reception (National Gallery of Slovenia)
Welcome by Dr. Barbara Jaki (Director of National Gallery of Slovenia)