Registration - National Festival Meeting - "The Sweden Festival", Norrköping 27-29 May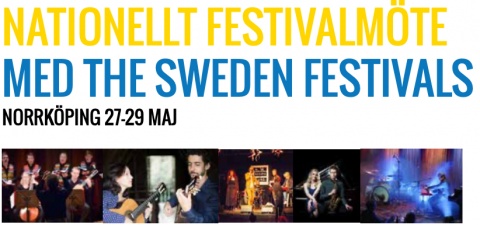 Put the dates in your Calander and register here. Latest 2 May.
We start Friday the 27th and you're welcome to check in at Comfort Hotel Norrköping where you can also register. At 17.00 we gather for a common dinner. After that we get over to Hörsalen for a double Concert which starts 19.30 with Duo Suqueira Lima. A fantastic guitar duo from Uruguay / Brazil who interpret greats such as Heitor Villa-Lobos, Astor Piazzolla, Hermeto Pascoal and others in a sincere but also humorous way. After a short break we get Ensemble Villancico to the stage. Early South American music in a unique multicultural fusion of European, Native American and African - a form of "Early World Music".
On Saturday the 28th, the other participants drop in from 11.00 and we start with lunch, which is also the start of the Regionala Arrangörsträffen that we share program with. We are located in Vingen at Louis De Geer and the focus is on the restart, young promising artists, building collaborations and networks. Östgötamusiken who is a co-organizer, speaks together with Scenkonst Sörmland and Västmanlandsmusiken on how they work with music organizers. "På Turné" present latest news and what's on for 2023, EFA informs about its activities and specially about the project European Festivals Fund for Emerging Artists where we are project partners and also we'll also have an insight in Finland Festivals works, Kulturrådet provides us with the latest news on operational and crisis support and Linda Zachrisson, Ministry of Culture, talks about the investigation "Från kris till kraft" and how it moves forward. We end with a panel debate on the days topics.
At 18.00 we have dinner together which turns into a concert in Värmekyrkan with Mats & Morgan duo who have played together since they were 10 and 14 years old respectively and last year celebrated their 40th anniversary. Their interplay is almost telepathic and alternates between soft and hard, odd beats and simple melodies often performed by Mats on harmonica or vocals. We continue with a club night that begins with The Sweden Festival Stars with a soiree put together by our chairman Peter Eriksson who has some exciting surprises with him. As it should be, the evening ends with a turn off All my Friends are Stars Band with roots in Hip-Hop and Soul and with lyrics that take a stand on current issues such as climate, gender equality and peace.
Sunday morning we return to the seminar program where the municipality of Norrköping tells about Unesco musikstad and their support for restart after Covid. Future Echoes an Showcase Festival provides an insight into international their cooperation. Live Green has a workshop on "Sustainable Festivals" and we round off to network, discuss and summarize. Before you go home, you are invited to a lunch concert in Hörsalen with Duo Julia & Theo who are the winners of the Chamber Music Association's "Young & Promising" with accompanying Sweden tour in the autumn of 2022. Finally, we end with lunch. Take the chance, come and join in developing Festival Sweden. We offer everything except travels. The program is subject to change.
Peter Eriksson             Erik Palm                                    Peter Wilgotsson
Ordförande                 Verksamhetsledare                      Östgötamusiken