Nosaby-Kristianstad Choir & Organ Festival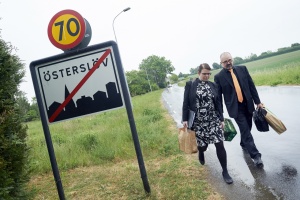 Our happy music festival was organized for the fifth year 2017!
This was unfortunately also the last time for the popular choir and organ festival, which is now a finished chapter. I would like to extend my heartfelt thanks to all artists, choirs and audiences. Thanks to all contributing actors who supported and believed in the festival as an important cultural bearer in Kristianstad.
During the five years, the festival attracted a remarkably large audience, who enjoyed both outstandingly renowned artists and choirs as well as the local music range in a beautiful mix. The lack of mental and financial support from the Nosaby parish makes the festival impossible to continue.
I'm glad to have finished with the festival flag in the top!
Urban Rosengren, festival manager
Photo: Mats Persson, Malmoe
The small parish of Nosaby lies just northeast of the city of Kristianstad in the province of Scania in southern Sweden. Nosaby Parish is the home of a strikingly large interest in choir singing and attracts around 150 active choral singers of all ages.  Choral singing is heard not only in Nosaby but also in Kristianstad and the surrounding areas where interest, passion, and enthusiasm for singing in choirs is wide-spread.
- My vision is to establish an annual three-day festival where we invite and inspire a stimulating exchange between our own musical forces, other choirs in our region, and visiting choirs and organists! 
Urban Rosengren, Artistic Director.
Three beautiful churches in Nosaby, Österslöv, and Fjälkestad offer superb opportunities for memorable musical experiences during the festival.
The festival is arranged by The Nosaby-Kristianstad Music Association in joint collaboration with The Church of Sweden in Nosaby Parish, Musik i Syd, and Sensus.