EFFE International Jury and Creative Europa 2021-2027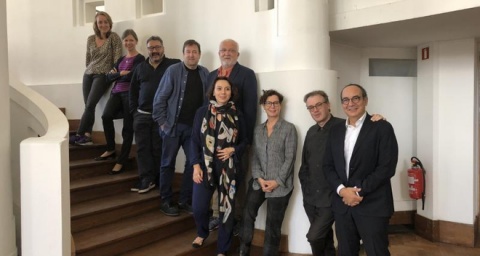 The EFFE International Jury was gathering in Brussels on 7-8 September, together with the EFFE Hubs, to define the final criteria and the competitive process of this European scheme for festivals preparing for Creative Europe 2021-2027. In total 1129 festivals have received the European recognition for arts festivals in the pilot phase of EFFE. A new online search tool for audiences worldwide is added to the programme: The Festival Finder went online in the middle of November 2018. All arts festivals from 43 countries are now invited to add their festival to this one and only European arts festivals search engine reaching out to international audiences, artists, travellers, academics, journalists, bloggers, policy makers,... EFA President Jan Briers is excited about the finalisation of the Europe for Festivals, Festivals for Europe scheme and is looking forward to further develop EFFE as a useful instrument for festivals and audiences.
The EFFE International Jury chaired by Sir Jonathan Mills will select the most innovative festivals in certain categories for the EFFE Awards.
These festivals got the EFFE Award 2017:
EFFE International Jury 2019-2020 consists of: 
Sir Jonathan Mills – president of the jury Director of the Edinburgh International Culture Summit
Mrs. Tamar Brüggemann Co-director of the Wonderfeel festival Netherlands
Mr. George Delnon (new jury member) Artistic director of the Hamburg State Opera
Mr. Peter Florence Founder and director of the Hay Festival group, UK
Mrs. Fairouz Nishanova (new jury member) Director of the Aga Khan Music Initiative in Geneva
Mr. Keng Sen Ong Festival Director of the Singapore International Festival of Arts (SIFA)
Mr. Haris Pasovic Director of the Mittelfest and director of East West Centre Sarajevo
Mr. Pawel Potoroczyn CEO of University SWPS in Warsaw, Poland
Mrs. Ruta Pruseviciene (new jury member) Executive Director of Vilnius Festival and General Director of the National Philharmonic Society of Lithuania
Mr. Renato Quaglia General Manager of the FOQUS Foundation and Project Manager of the Friuli Future Forum
Mrs. Virve Sutinen (new jury member) Artistic director of Tanz im August Berlin